Purple Cabbage
Cabbage is often an overlooked veggie, but is a great option when on a tight budget. Cabbage also stores well so it is often part of the end of my week meal plan, or if I am doing a two week plan, that second week. ⁠
⁠
I love it raw, roasted, sautéed, in soup, or pickled. In fact, as a kid my mom used to make a sweet purple cabbage dish that i ate so much of one night it came back up. 😅 So while I don't make that specific dish anymore, I still love purple cabbage. ⁠
High Antioxidant Veggie By Cost
Not only is purple cabbage inexpensive, versatile, and long lasting, it is also rich in nutrients. Like other veggies it contains fiber, various vitamins and minerals. It also contains important phytonutrients, including the one that makes it purple. That purple color comes from powerful antioxidant plant compound known as anthocyanin (it is also in blueberries and red wine) and has been studied for reduction of disease and inflammation. Purple cabbage also has other antioxidants, and is known to be one of the highest antioxidant level plants per unit of cost! Talk about getting your money worth!
Decrease Inflammation
Another important phytonutrient in purple cabbage is a sulfur containing compound that add to it's sometimes less than pleasant smell, but is beneficial for our hearts and has been shown to kill cancer cells in vitro studies and decrease inflammation. So while the sulfur smell isn't the most pleasant, it might be worth it for the health benefits. Plus, if eaten raw or prepared well, that sulfur smell is easy to mask.⁠
Speaking of raw, purple cabbage can easily be added to a veggie tray or a salad. My girls love it dipped in ranch!
⁠
Here are a few ways, I enjoy cooking with purple cabbage.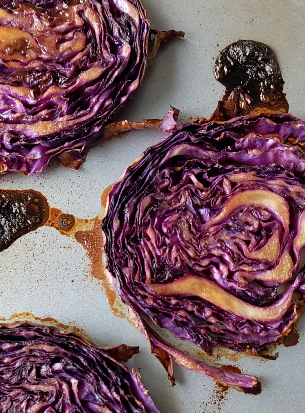 Print Recipe
Honey Balsamic Roasted Purple Cabbage
This is such a yummy way to eat purple cabbage. The family loves it and it reheats well in the microwave.
Ingredients
3

large rounds of cabbage

2

tablespoons

olive oil

1

tablespoon

balsamic vinegar

1

tablespoon

honey

1/4

teaspoon

mustard

1/4

teaspoon

garlic powder

salt and pepper to taste
Instructions
Slice the head of cabbage into large rounds. Take 3 of the large rounds and place them on a greased baking sheet.

Mix together the olive oil, balsamic, honey, mustard, and garlic.

Brush honey mixture over the tops of the cabbage rounds. Sprinkle with salt and pepper.

Roast at 400 for 20-25 minutes. Enjoy!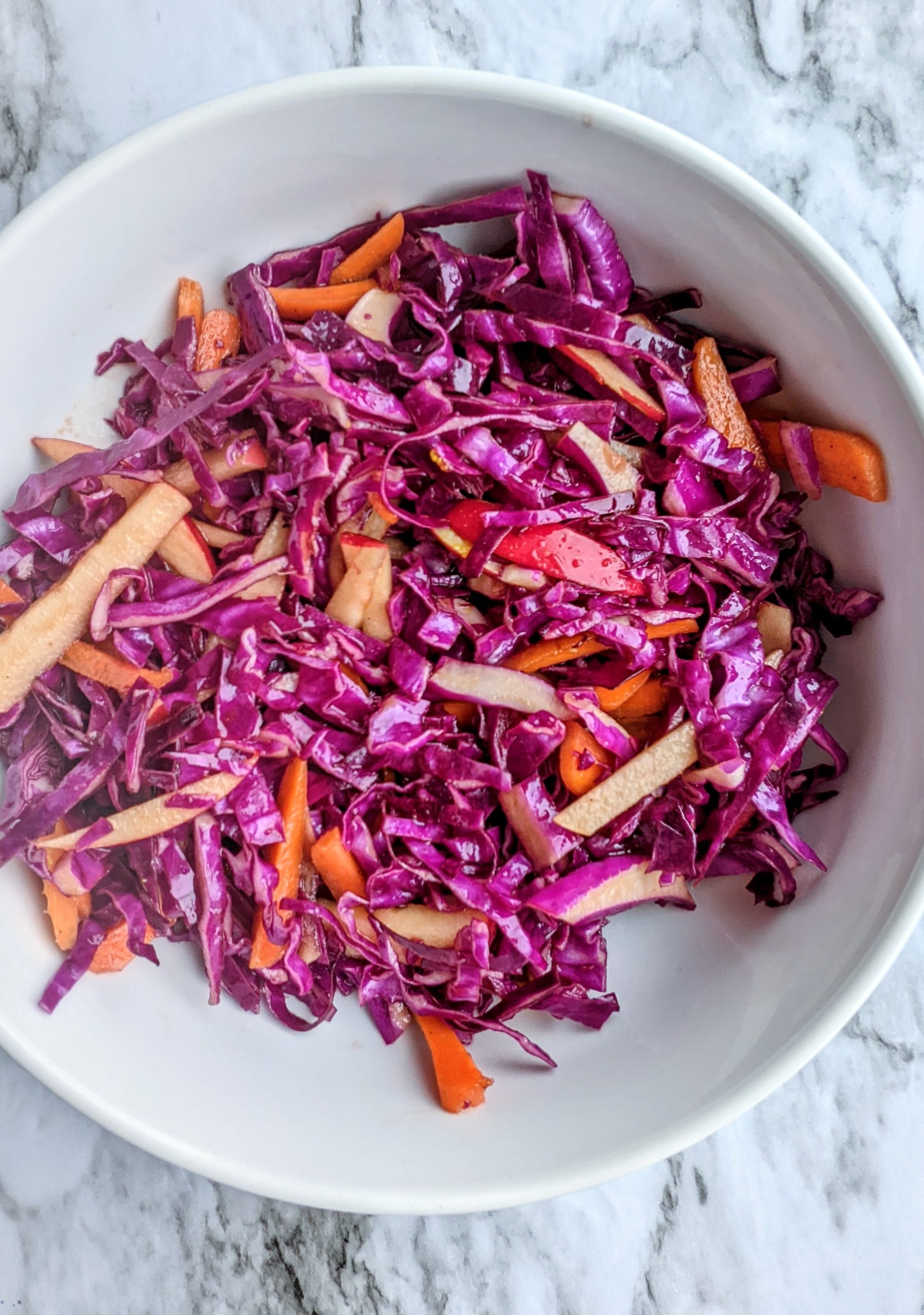 Print Recipe
Sweet and Tangy Purple Slaw
I love a good slaw. I think it can take a fish taco, burger, or sandwich to a whole new level. You can put anything into a slaw, I kept this one light and sweet. It is delicious on it's own and I especially love it with bbq chicken wraps or sandwiches.
Ingredients
3

cups

purple cabbage, shredded

1/2

cup

shredded carrots

1/2

apple, shredded

2

tablespoons

olive oil

2

tablespoons

orange juice

1

tablespoon

honey

1/4

teaspoon

mustard

1

tablespoon

balsamic vinegar

1/8

teaspoon

onion powder

salt and pepper to taste
Instructions
In a large bowl, mix all the ingredient together until well combined. This stores well in the fridge for a few days.