Avocados have become a kitchen stable in the last few years. I often get questions about if avocados count as a fat or a fruit. I usually count avocado as a fat source, but it is a super nutrient dense fruit and can count towards your daily fruit intake. It is high in monounsaturated fats and a great source of fiber. Fiber helps slow sugar absorption, helping to stabilize blood sugar, improve satiety, and is vital for gut health. Both to move waste through and to feed the good bacteria in your gut.
Avocados also have many vitamins and minerals one important one being potassium which is low in the typical American diet and helps regulate blood pressure. They are also rich in magnesium, B vitamins (including folate) and antioxidant vitamins C and E. While these nutrients have many roles, one is reducing oxidative stress and inflammation.
The combination of the fiber, vitamins, minerals, and phytonutrients in avocados may also positively impact heart health by raising HDL, lowering LDL cholesterol and regulating blood pressure.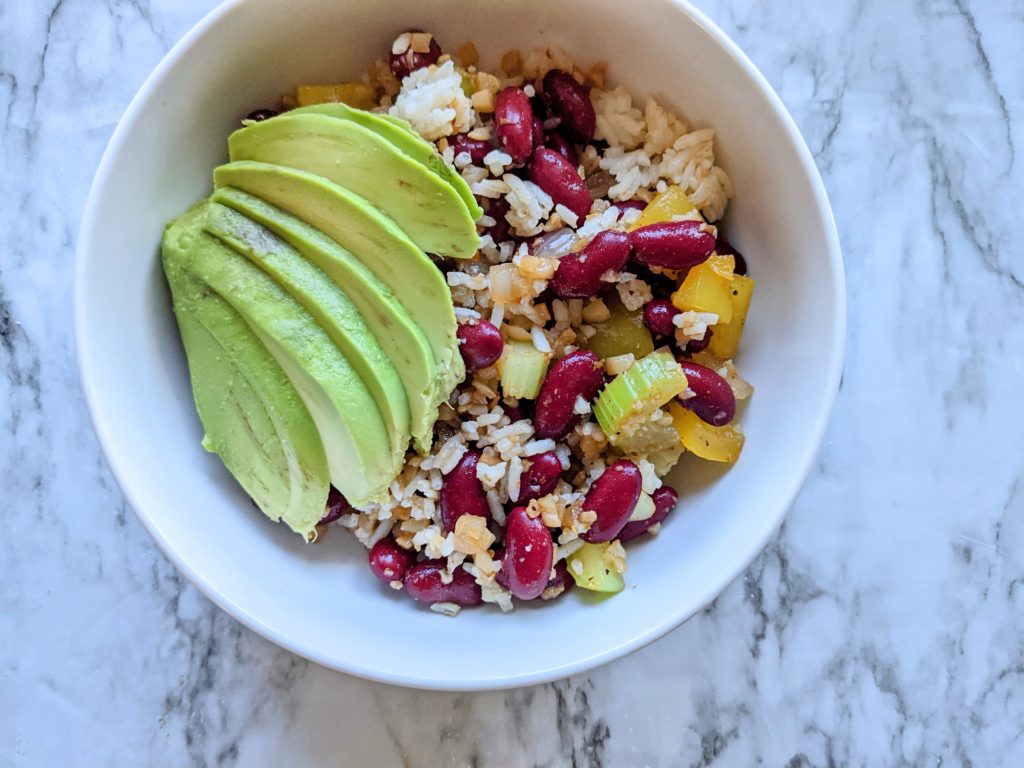 Bottom line, avocados are known to be a healthy fat, but they provide much more than just fat. However, because they are high in fat, they are also calories dense. I usually keep a serving to half a small avocado to help prevent a calorie surplus.
Do you like avocados? What's your favorite way to eat them? I'll show you a few of mine below, but you can't go wrong just using them as a topping. 🤤
Avocado Mango Quesadillas
Take your quesadilla up a notch with with an avocado, mango salsa! Tastes like summer! You can easily double or quadruple this recipe to make it for the whole family!
Ingredients
¼

mango

diced

½

small avocado

diced

2

Tbsp

onions

minced

1

Tbsp

cilantro

salt and pepper

to taste

1

whole wheat tortilla

1-2

oz

pepperjack cheese
Instructions
Add the chopped mango, avocado, onion, and cilantro together in a small bowl. Add salt and pepper to taste.

Spread the mango avocado salsa over one side of the tortilla, sprinkle with cheese and then fold the over side on top.

Heat on a panini press or in a skillet on low until the cheese has melted, and the tortilla has started to turn golden brown.
Spicy Avocado Breakfast Sandwich
This is a go to breakfast for me. It's filling, warm, and yummy. The creamy avocado pairs perfectly with the spicy pickled jalapeños.
Ingredients
1

english muffin

toasted

1

egg

fried

1

green onion

or a sprinkle of onion powder

1/2

cup

arugula

6-8

pickled jalapeno rounds

more or less depending on how spicy you like it

1/2

avocado

salt and pepper to taste
Instructions
Cook your egg to your liking. I like to heat mine on the stove in a silicon egg ring so it fits my english muffin.

Toast your english muffin while your egg is cooking.

On your toasted english muffin, layer the remaining ingredients, sandwich together and enjoy!
Avocado Toast
This is one of my families favorite snacks. My 6 year old especially loves it.It's so simple, filling, and delicious. Plus high in nutrients. I just do 1/3 to 1/2 of an avocado, everything bagel seasoning, and a sprinkle of hemp seeds. Hemp seeds add additional protein, healthy fats, and fiber.
Ingredients
1

whole wheat bread

toasted

½

avocado

1

tsp

hemp seeds

1

sprinkle

everything seasoning
Instructions
Toast your bread and layer sliced avocado onto the warm bread. Sprinkle with hemp seeds and everything bagel seasoning.