Asparagus
It's that wonderful time of year when asparagus is abundant and inexpensive. I love asparagus and often serve it on the side steamed, roasted, or air-fried. I also love to add it into dishes like salads, pastas, or stir-fries. I'll share a few of my favorites below, but let's talk about why from a nutrition standpoint asparagus is so awesome! ⁠
Nutrient Dense
First is it's nutrient dense. Meaning in just 20 calories a cup it packs a ton of nutrition. Including protein, fiber, and many vitamins like folate which is important for cell growth and DNA, and vitamin K which is important for blood and bone health. It also has minerals like potassium, which is used in many bodily processes including maintaining a healthy blood pressure and often low in the diet. ⁠
Phytonutrients
Like other veggies, asparagus also contains antioxidants. In particular, quercetin, isorhamnetin and kaempferol which some studies have found to be beneficial for blood pressure-lowering, anti-inflammatory, antiviral and anticancer effects. ⁠
⁠
Easy to Cook
Asparagus is also easy, quick to cook, delicious, and a fun shape that is easy to hold, which might help convince your kids to try it. So while it's on sale, go get some asparagus and enjoy the health benefits of adding it to your diet! Below are a few of my favorite ways to cook and enjoy asparagus!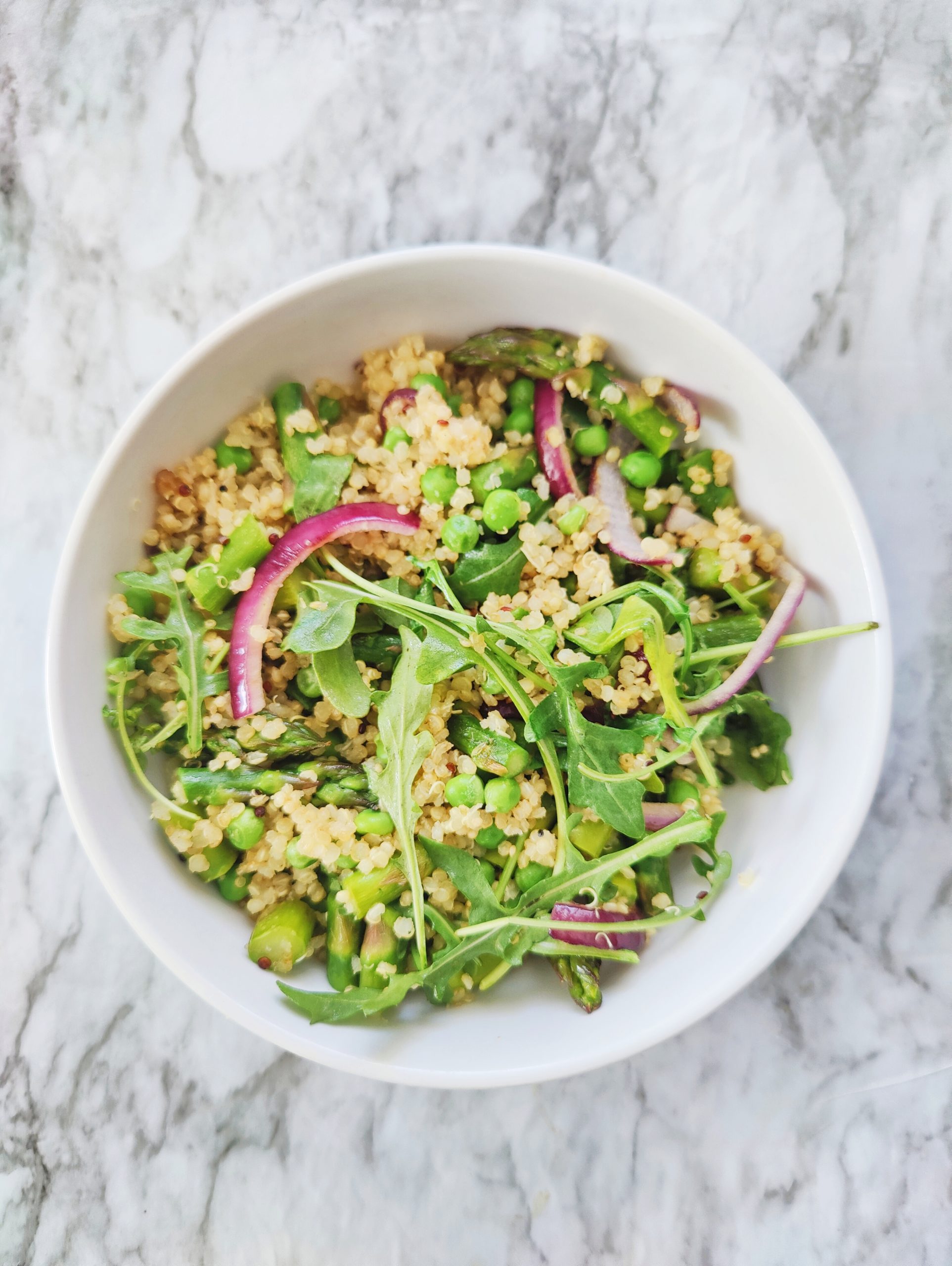 Print Recipe
Warm Spring Salad
So easy, seasonal, fresh, and delicious for spring!
Ingredients
1

tablespoon

olive oil

1/8

red onion, sliced

1/2

cup

chopped asparagus

1/2

teaspoon

garlic salt

1/2

cup

peas

1/2

cup

cooked quinoa

1

cup

arugula

1

teaspoon

balsamic vinegar

1

tablespoon

parmesan cheese
Instructions
In a large skillet, saute the onions and asparagus.

Sprinkle with garlic salt.

Add the peas, quinoa, and continue to saute until warm.

Turn off the heat, add the arugula and mix until slightly wilted.

Top with balsamic vinegar and parmesan cheese and enjoy warm!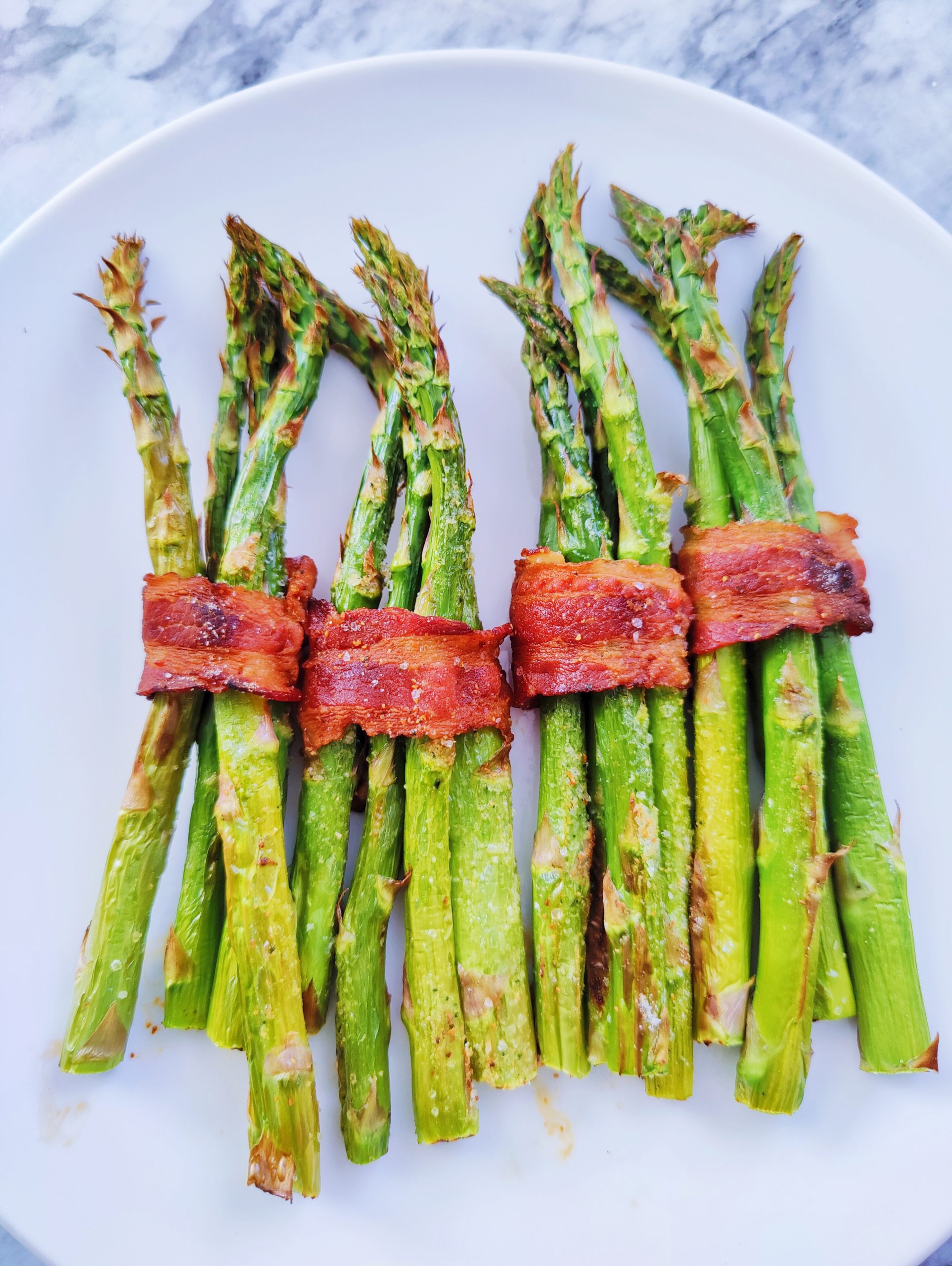 Print Recipe
Air-fried Bacon-wrapped Asparagus
If you are looking for a fancy or extra yummy way to enjoy it. This recipe is for you! I could eat the whole plate! Okay fine, I did eat this whole plate. 😂
Ingredients
12

asparagus spears

4

slices

bacon

garlic salt

olive oil spray
Instructions
Wrap 4 slices of asparagus with a slice of bacon. Place in the air-fryer basket so the seam of the bacon is down

Repeat with remaining asparagus and bacon

Spray with olive oil and sprinkle of garlic salt

Cook at 400 for 8-12 minutes, checking half way. Depending on the thickness of your asparagus and how cooked you like your bacon cooking times may vary.