Why Eat Carrots
I know they get a bad rap sometimes for being "high in sugar', but in reality, while they are primarily carbs, they have a low glycemic load because of the fiber content. The soluble fiber in carrots, like pectin, feeds the good bacteria in the gut, stabilize blood sugars, and decrease cholesterol. The insoluble fibers in carrots to keep us regular and decrease our risk of GI diseases like colon cancer.
Rich in Antioxidants
They are also nutrient dense, meaning they have few calories with lots of vitamins and minerals and phytonutrients. One that many people focus on is the Vitamin A and lutein which is why they have the reputation of being good for your eyes. But they also have other antioxidants. Which other antioxidants depends on the color. For example, purple carrots have a powerful antioxidant called anthocyanin, while orange and yellow carrots have beta carotene.
Let's talk about beta carotene. Beta carotene is an antioxidant and phytonutrient which our bodies can convert to Vitamin A which is important in immunity. Beta carotene, may also help with improved brain health, skin health, lung health, eye health, and potentially decrease our risk on certain cancers. Lots of reasons to enjoy carrots!
Fun fact: beta carotene is increased when the carrots are cooked. So enjoy them raw sometimes and cooked other times.
Help Your Kids Eat More ⁠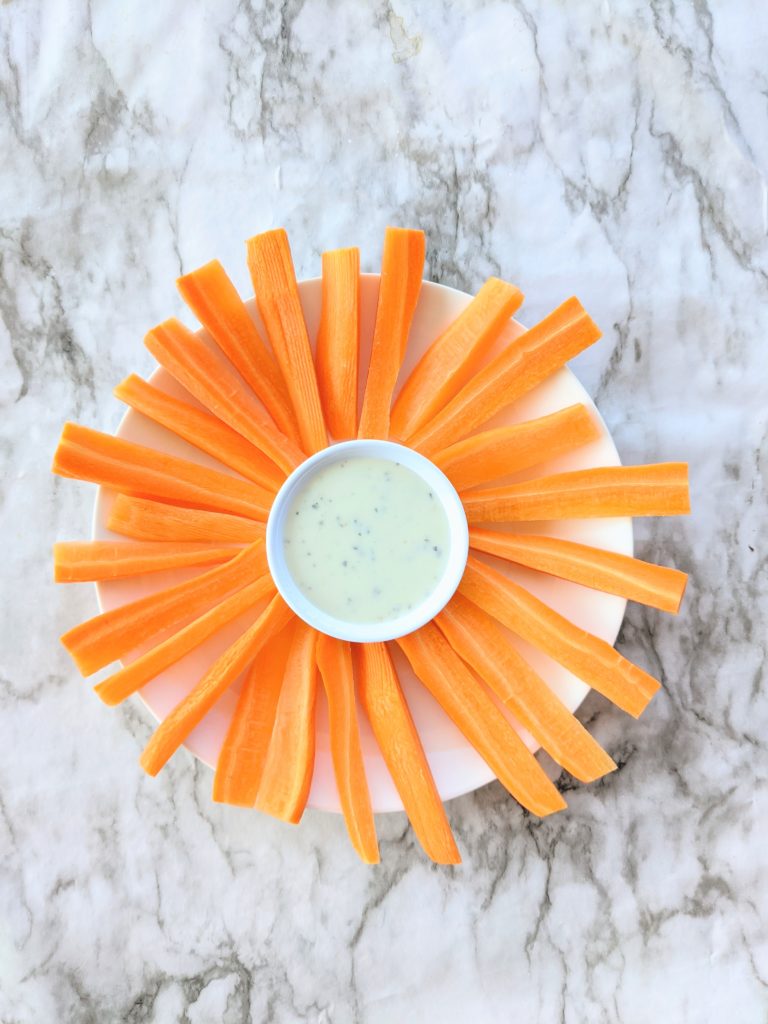 Don't Love Carrots? Many times people talk about having a hard time enjoying veggies, or getting their kids to enjoy vegetables. ⁠Dips are a great way to make eating veggies much more enjoyable, and before you think your are "undoing" anything, know that dips can be an additional source of nutrition. Often they are fat sources and the fat can actually help you absorb the fat soluble vitamins in carrots like vitamin A and K. ⁠
⁠
Another helpful trick is to cut them into thin strips. They are easier to grab, bite, and dip. So cut them up, making them pretty and add a dip. You are going to be shocked how much more you enjoy them. ⁠I have had friends who are shocked when their kids eagerly eat veggies at my house, but instead of baby carrots, I get the full carrots, slice them thin, and arrange them with a dip. ⁠
⁠
Remember eating should be enjoyable! What's your favorite way to enjoy carrots? ⁠I share a few of mine below.
Butterscotch Carrot Cookies
My girls and I are obsessed with these cookies! The carrots and the butterscotch pair so well together! These are lower sugar and rich in whole grains and nutrient rich ingredients. Great for a snack, dessert, or even as part of a balanced breakfast. ⁠
Servings:
12
(2 cookies per serving)
Ingredients
1/2

cup

brown sugar

4

Tablespoons

butter

softened

1

cup

shredded carrots

1

egg

1

cup

oats

1

cup

whole wheat flour

1/4

cup

flax meal

1

teaspoon

baking powder

1/2

teaspoon

cinnamon

1/4

teaspoon

nutmeg

1/4

teaspoon

ginger

1/2

cup

butterscotch chips
Instructions
Beat the sugar and butter. Add the egg and continue beating.

Add remaining ingredients and mix until dough forms.

Scoop out dough and flatten the cookies slightly with a fork before cooking since these don't spread much.

Bake at 350 for 10-12 minutes. Cool for 5 minutes and enjoy! ⁠
Simple Chicken Noodle Soup⁠
This is a very simple version of this soup. I find that keeping it simple helps my kids feel less intimidated, but I sometimes make it with lots of fresh herbs or garlic and love it that way as well. Think of this as a base that you can add too. If your family prefers mild flavors, keep it as is, like stronger flavors, bump up the spices. ⁠
Ingredients
1

pound

chicken breasts

2

cups

celery, chopped

2

cups

carrots, chopped

1-2

teaspoons

onion powder

1

bay leaf

4

cups

chicken broth

more if you like a less chunky soup⁠

2

cups

peas

I use frozen at the end to cool the soup down for my girls.

16

ounce

egg noodles

I use grandma

salt and pepper to taste

Options seasonings: thyme, tarragon, basil, and garlic
Instructions
Add the chicken, celery, carrots, onion powder, bay leaf, and broth to crockpot and cook on low for 6-8 hours. Add other seasonings of choice, depending on your family preference.

During the last 30 minutes of cooking, remove the chicken and shred.

Cook the noodles separately according to package directions and add them to the soup once cooked.

Finish off with peas, and if you think it needs it, salt and pepper.
Notes
One note, I have tried to make this with fresh onions and they over power the rest of the dish when cooked in the crockpot, I highly recommend using onion powder. It gives a nice flavor, but doesn't overpower. ⁠
Roasted Carrots
A simple veggie side dish with great flavor. The carrots turn slightly sweet when roasted. This is a popular option for kids and company.
Ingredients
3

cups

carrots, peeled and chopped

1 inch thick

1

tablespoon

olive oil

1

sprinkle

salt
Instructions
Toss the chopped carrots with olive oil and salt.

Roast at 400 for about 30 minutes.
Roasted Carrot Soup
A popular choice with my girls and a great way to use leftover roasted carrots.
Ingredients
3

cups

carrots, peeled and chopped

2

tablespoons

olive oil

divided

1/2

teaspoon

salt

1/2

white onion, minced

1

can

coconut milk

13.5 oz

1/2

cup

broth (vegetable or chicken)

more or less to taste

additional salt and pepper to taste
Instructions
Toss the chopped carrots with 1 tablespoon olive oil and 1/2 teaspoon of salt. Roast at 400 for about 30 minutes until tender and browning

While the carrots are roasting, heat the remaining tablespoon of olive oil in a medium pot. Add onion and saute until tender.

Add carrots, onion, and coconut milk into a blender and blend until smooth. Return to the medium pot. Add broth to desired consistency, taste and add salt and pepper if desired.
Notes
I kept this super simple for my girls, but you could always add more spice and or heat to this dish. It is also delicious with a little curry powder and garlic. 
Carrot and Butterscotch Oatmeal
This tastes like carrot cake but it's loaded with vitamins, minerals, and fiber!Plus healthy fats from the flax and blood sugar stabilizing cinnamon.
Ingredients
1/3

cup

oats

2/3

cup

milk

or milk substitute

1

teaspoon

flax meal

1/4

cup

shredded carrots

1/8

teaspoon

cinnamon

1

tablespoon

butterscotch chips
Instructions
Mix the oats, milk, flax, and carrots together.

Microwave for 1:30 minutes then add chips and cinnamon and stir until chips are melted. Sprinkle with a little salt if desired.
Easy Weeknight Chicken Stir-fry⁠
I have tried replacing rice with riced cauliflower in the past and wasn't super impressed, but when mixed in with white rice, my family didn't notice it. This was an easy way to add extra veggies and fiber to this chicken stir-fry ⁠
Ingredients
1

pound

chicken breasts

1/3

cup

soy sauce

1/2

tablespoon

ginger powder

1

tablespoon

garlic powder

1

teaspoon

onion powder

3

tablespoons

honey

1

cup

water

2

tablespoons

olive oil

5

cups

chopped veggies of choice

2

cups

riced cauliflower

2-3

cups

cooked rice

I like to cook mine in 1/2 water and 1/2 broth
Instructions
In a crockpot place chicken, soy sauce, ginger, garlic, onion and honey.

Cook on low for 8 hours or on high for 4-5 hours. Once the chicken is cooked, shred. ⁠

Heat olive oil, in a large skillet, add veggies and saute until tender. 

Add the chicken and sauce from the crockpot as well as well as the rice. Mix until evenly dispersed and serve warm. ⁠
Notes
I make this recipe with anything that is in season and it always turns out delicious. I also often use it as my "clean out the fridge" meal and just throw all the veggie scraps in.